Leather martingale show dog collar
Martingale style dog show leads made from premium quality 6 mm bridle leather, hand stitched for extra durability and equipped with strong but lightweight chrome half check chains.
Leather martingale show collars are designed to be used with a trigger hook show leads and provide more control without chocking your hound in the show ring. Half check collars are a more gentle and humane alternative to the full chock and slip collars, and are extremely popular with dog who exhibitors.
Martingale style dog collars are also known as greyhound and whippet collars since, when fitted correctly, they prevent long narrow sighthound heads from backing off and slipping out of their collar.
Our dog show martingale collars are available in five sizes (25 cm, 30 cm, 33 cm, 35 cm and 40 cm) to fit most breeds from the smallest Italian Greyhound to the largest Borzoi. Please see the martingale collar size guide tab for instructions on correctly measuring your dog for a martingale collar.
Please do not hesitate to call +44 (0) 20 3582 4532 or write to us if you need help in choosing the correct martingale dog show collar for your hounds. We are here to help!

Measuring your dog for a martingale (half check) collar
Carefully measure your dog's neck using a soft tape measure or piece of string where you want the collar to be worn (either just below the chin or lower down around the neck). This will give you A to B measurement, which is the leather part of martingale collar without the chain.
Our martingale collar sizes are given as distance between the two chain rings without the chain (measurement of leather collar between A and B). Therefore, you need to ensure that tape measure is snug and sits tightly around your hound's neck with no space to spare. Bear in mind that collar chain gives sufficient extra length for control, comfort and ease of putting the collar on.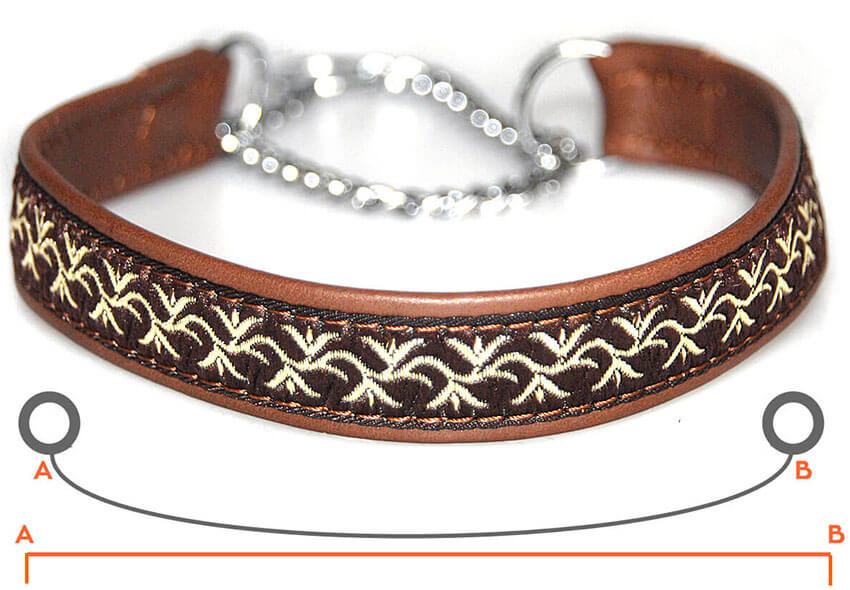 Choose collar size which is closest to your desired length:
Large: 40 cm (16")
Medium I: 35 cm (14")
Medium II: 33 cm (13")
Small: 30 cm (12")
X-Small: 25 cm (10")
Please do not hesitate to call +44 (0) 20 3582 4532 or write to us if you need help in choosing the correct size martingale collar for your hounds.