Made to order fabric dog snoods
Snoods help protect long ear fringes and are essential for long coated hounds such as Afghan Hounds, Cocker Spaniels, Cavalier King Charles Spaniels, American Cocker Spaniels, Lhasa Apsos and Shi Tzus.
At Dog Moda we make both sewn and crochet snoods. Sewn snoods can be made in a wide range of fabric - cotton, fleece, cuddly plush, stretch cotton and waterproof soft-shell. We can add extra decoration, such as reflective elements, ribbon and personalised embroidery.
All Dog Moda dog snoods are handmade in house for a perfect fit. We are happy to accommodate any custom requests you might have - please get in touch to discuss your ideas and requirements.
To order your fabric dog snood, please choose from the options on this page and fill in the required neck size, snood length and any custom preferences in the comments box at checkout.
For help on how to measure your dog for a custom snood please see our snood measurement guide, which we put in the separate tab.
We are suer that you will understand that it takes time to make a good snood and on average there is a 1 week waiting time.
Please do not hesitate to call +44 (0) 20 3582 4532 or contact us if you have any questions, want help measuring your hound or need your snood sooner. We are here to help!

How to measure for dog snoods - Dog snood measurement guide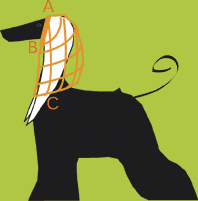 Please measure your dog as shown on the diagram. A to B measurement will give you neck size circumference, and A to C measurements is the length of neck.
Please add a few centimetres if you prefer your dog snoods to be on the long side.
It takes time to make a good dog snood and on average there is a 2-week waiting time for all made to order dog snoods.
Please don't hesitate to call +44 (0) 20 3582 4532 or e-mail us for any help with measuring or choosing the dog snood. If you can imagine it, we can make it!