Soft padded collars for Whippet puppy
Our traditional handmade Whippet puppy collars are stylish, look smart and at the same time are practical enough to be worn everyday.
These are the softest leather collars for Whippet puppies with three hearts and soft leather lining. There is a choice of red, beige, pink, cream, blue or turquoise hearts on brown or black leather. The most popular Whippet puppy collars designed for the little Whippet of you life!
These Whippet puppy collars are generously padded and fully lined with soft goat skin leather for your whippet puppy's ultimate comfort. Moreover, these traditional handmade whippet puppy collars feature our improved buckle design and are generously padded for your Whippet's ultimate comfort.
Why Whippet puppies need special collars
Apart from 'special collars for special dogs' argument, Whippet puppies need wider dog collars resembling fishtail shape because with them having such slender necks a normal dog collar could easily damage their delicate necks when they pull.
As a result our Whippet puppy collars are soft and padded, but most importantly are wide, so that collars do not put a lot of pressure on one small area of Whippet puppy's fragile neck. Therefore, puppies should not be on an ordinary narrow flat collars, as their necks are prone to injury due to its size and shape.
Moreover, due to the shape of Whippet's head, you would find that a lot of puppies can slip out of a normal narrow collars.
Measuring Whippet puppy collars
Our Whippet puppy collar sizes are given as neck measurements, not the total length of the collar. The neck size given is the distance from the buckle (A) to the first (B) and the last (C) hole.

Tiny XS and XXS sizes of our very popular Whippet collars were introduced specifically to create collars for Whippet puppies.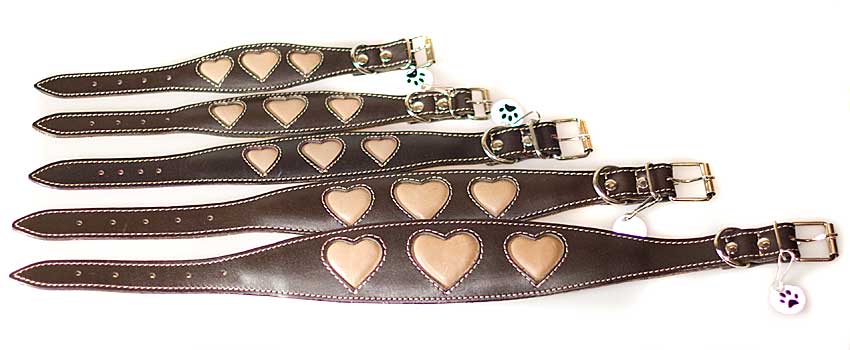 Whippet puppy collar sizes (neck measurement)
X-Small Whippet puppy collars
22 - 28cm (8.5" - 11"), 3.5 cm wide collar for Whippet puppies.

XX-Small Whippet puppy collars
18 - 22cm (7" - 8.5"), 3.5 cm wide collar for small Whippet puppies.


Please, mention to us at the time of the order if you require XX-Small size for your puppy.
Do not hesitate to call +44 (0) 20 3582 4532 or write to us if you need help in choosing the correct size collar for your Whippet puppy. We are here to help!