Soft padded bright pink premium leather sighthound collar in snake skin imitation pattern
Traditional handmade greyhound / whippet fishtail shaped leather collar made from luxurious real leather with snake pattern embossed bright fuchsia pink leather.
This leather collar is embossed with imitation reptile pattern and finished with black edge piping. All Dog Moda collars are fully lined with real leather or suede, and are also fully padded making them very comfortable on your sighthound's neck.
Our leather sighthound hound collars are stylish, look smart and at the same time are practical and durable enough to be worn as everyday collars. This collar features our improved buckle design and is generously padded for your hound's ultimate comfort.
Due to the nature of this pink stamped leather no two collars are exactly the same, each one has a unique look.

Premium rolled leather leads available in black and bright pink to match and you can save £5.00 when buying collar and lead together as a set.
Decorative hound collar tassels - SAVE £5.00
Why not decorate your hound's collar with one of our exclusive collar tassels.
Dog Moda tassels are designed and handmade exclusively by us in the UK and you save £5.00 when buying with one of our collars.
Tassels are made from the highest quality beads and materials, we do not use cheap plastic beads. Each tassel is unique and no two tassels are alike, making them a stylish decoration for your hound's collar.
Our tassels are available in a wide choice of colours designed to compliment full range of Dog Moda hound collars. You can choose from blue, pink, orange, red, green, lilac, turquoise, beige, brown, black and white. Please select select your choice from a drop down menu.
We are also happy to accommodate custom requests should your colour choice be unavailable and can also use letter beads for a truly personalised tassel.
Sighthound collar size guide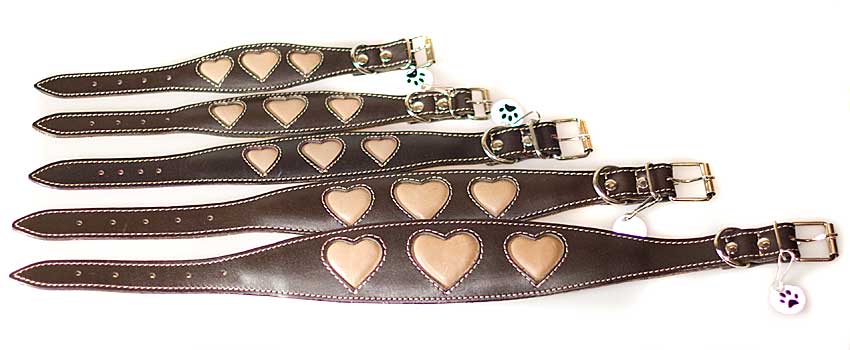 Large size hound collars
Large size collars fit neck size 40-50cm (16" - 19.5"), 5.5 cm wide: hound collars for Afghan hound, Borzoi, Deerhound, Greyhound.
Medium size hound collars
Medium size collars fit neck size 33-42cm (13" - 16.5"), 5 cm wide: hound collars for Afghan hound, Ibizan hound, Greyhound, Saluki, Sloughi, Lurcher.
Small size hound collars
Small size collars fit neck size 28-33cm (11" - 13"), 4 cm wide: hound collars for Whippets, Basenji, smaller Lurcher, larger puppies, Dachshunds, terriers, poodles, Chineese Cresteds.
X-Small size hound collars
X-Small size collars fit neck size 22-28cm (8.5" - 11"), 3.5 cm wide: hound collars for Italian Greyhounds, Whippets, Whippet puppies, puppies of other dog breeds.
XX-Small size hound collars
XX-Small size collars fit neck size 18-22cm (7" - 8.5"), 3.5 cm wide: hound collars for Italian Greyhounds, Whippet puppies.
Measuring your dog for a sightound collar
It is essential that you correctly measure your hound's neck (or a collar that fits your dog) for a prefect, comfortable and safe fit.
Our collars sizes are given as neck measurements, not the total length of the collar. The neck size given is the distance to the first (B) and the last (C) hole from the buckle (A).

Size XXS collar, for example, is sized for necks between 18cm and 22cm (7" - 8.5"). This means that the distance from the buckle to the first hole is 7" and the distance to the last hole is 8.5".
You can measure your hound by using a soft tape measure or ribbon and wrapping it around your hound's neck from below the chin to behind the ears. This measurement will be the smallest size collar that will comfortably fit your dog, but, at the same time, is tight enough to ensure that your slender hound can not back out off the collar.
If measuring the existing collar please measure from the buckle to the hole you are using. Please do not measure the total length of your existing collar as these will give you a wrong measurement for your Dog Moda collar.
Should your require a looser fit collar for your dog, you can measure neck circumference around the centre of your hound's neck and not under the chin and ears.
As an example, if your measurement is 20cm (8") then your hound will require a 20cm (8") size XXS collar. Please note that our collar sizes are deliberately designed to overlap allowing you to choose the width that you feel is most appropriate for you dog.
Should you need help in choosing the correct size collar for your sighthound please call +44 (0) 20 3582 4532 or contact us with any questions. We are here to help!